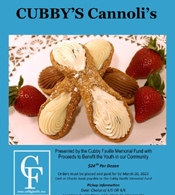 Cubby Faville was a Foundations of Food teacher at HFM Boces and each year he would sell cannoli's to raise money.  The Cubby Faville Memorial Fund sells cannoli's as a fundraiser.
Follow us on Facebook so you know when they are happening.
Cannoli's will be released in limited quantities only a few times per year.