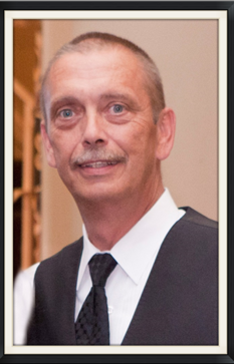 Everett Faville. Many of you know him by a different name. It turns out after all these years, it was just last night when I finally learned how he received that name. It was his parents who asked his Uncle Gary, who was in the Marines at the time to bestow upon him a nickname, and Uncle Gary did just that, one that stuck for over 50 years….."Cubby"
There's a quote that says "Time stops for no one, make every moment count, be happy and don't waste a day being sad because tomorrow is never promised."
Cubby was an amazing, hardworking man who lived life by making every moment count, building relationships with those around him, and doing it with a smile on his face.
His drive to make every moment count filled his days with being a caring, generous, and loving husband, son, grandfather, brother, uncle, friend, teacher, coach and father—a second father to so many, from his three son-in-laws, he was so much more than any of us that could ever hope for, to our close family friends, and to so many of his students.
Cooking was a big part of Cubby's life and he was great at it. He was the Foundations of Food teacher at HFM Boces. He enjoyed teaching and was driven to make a difference in each of his student's lives, they knew it, and they loved him for it.
Thirty-five Years ago Cubby married the love of his life, Mary Jo, or as he called her SAM. Thirty-five years is quite a long time. He would kid around with us son-in-laws and say the secret to a successful marriage is SHWaMBO (she who must be obeyed), in all seriousness, it wasn't SHWaMBO that made Cubby and Sam's marriage so special. It was the mutual adoration they had for each other. They both had an unconditional love which could be easily seen by their willingness to put each other above all else. It was the small secretive surprises they had for each other that started with a "don't tell your father, but I want to surprise him with…… or "don't tell your mother, but I want to surprise her with…..", that reinforced their love and devotion. It was this loving relationship that was the foundation for him raising three daughters and getting a new name….."DAD"
Cubby was so proud of each of his daughters and wouldn't hesitate to talk about them whenever he got the chance. Melissa, getting her cosmetology license, Jamie becoming a RN, and Kelli opening her own store. As each one of them married he was proud of their families as well. Those families brought grandchildren. And with those grandchildren brought a new name….."Namp"
He loved all of his grandchildren dearly, and all of them loved him. Even with a busy schedule he would make special time to spend with each one of them. Frankie remembers going to Yankee Stadium to watch their favorite team play. Luca treasures Namp being his baseball coach and best friend. One special memory Zachary and Travis have of Namp is the time they went to see Buddy Valastro, you may know him as the Cake Boss. A cannoli making competition broke out on stage. When Buddy asked for volunteers, all Cubby did was stand up and point right at him. Buddy didn't back down from the challenge and called him up on stage. Well, it turns out, because Namp had a fundraiser for his class which made and sold over 4000 cannoli's each year, he got pretty good at making them and he took home first place. While Makenna who just turned two wasn't able to give me a specific memory about Namp, I knew Namp was in her heart as well because when I ask her, she looked at me and repeated his name with a smile.
Cubby, DAD, Namp you were our biggest fan and you will be in all of our hearts forever with the things you taught us and the memories you gave us. I ask all of you to carry on my Dad's legacy by working hard, laughing often, and remembering to make every moment count.
Obituary:
Everett C. "Cubby" Faville, 56, of Gloversville passed away suddenly on Monday, December 23, 2013 at Albany Medical Center.
Born on July 24, 1957 in Gloversville, he was the son of Robert and Jacqueline (Canfield) Faville.
He was a 1975 Graduate of Gloversville High School and proudly served his country in the US Army until his honorable discharge in 1978. He was a graduate of Schenectady Community College with a degree in Culinary Arts, and later earned a Bachelor's Degree in Education from Nyack College.
In his early years, Cubby was active in the Old Glove Inn Softball Leagues and the Trinity Cadets Drum Corp. He was an avid golfer as well as an active member of the Gloversville Little League, serving on the board and also as a coach.
Cubby had worked as a Youth Aide and Teacher for NYS Division for Youth at Tryon for sever al years. For the past 10 years he has worked as the Foundations of Food Teacher at HFM BOCES in Johnstown and was a Chef and Banquet Coordinator at Fox Run Golf Club. He along with his wife, Mary Jo, operated Buck's Pizza in Gloversville.
Cubby was a devoted husband, father, and grandfather who is survived by his wife of 35 years, Mary Jo DiGiacomo Faville of Gloversville; three daughters: Kelli (Frank) DeMaio of Gloversville, Jamie (Chris) Tallon of Johnstown and Melissa (Will) Hally of Gloversville; his parents: Bob and Jackie Faville of Melbourne, FL; father-in-law: Frank DiGiacomo of Gloversville; grandchildren: Luca DeMaio, Zachary Tallon, Frankie DeMaio, Travis Tallon and Makenna Tallon; one brother: Craig Faville of Melbourne, FL; a sister: Sherri (Doug) Wilson of Nashua, NH; several in-laws, aunts, uncles, nieces, nephews and cousins.
Cubby was predeceased by his brother, Mark Faville, his mother-in-law, Dolores DiGiacomo, his maternal grandparents, Clara and Everett, and his paternal grandparents, Victoria and Claude.